The real reason why Logan Paul lost against Roman Reigns at the 2022 Crown Jewel pay-per-view has been revealed.
The Crown Jewel pay-per-view has come to an end, we are now learning a lot of new details about why certain things happened and some of them are pretty shocking. So in the main event at the pay-per-view, the Undisputed WWE Universal Champion, Roman Reigns put his title on the line against Logan Paul. Now if you watched this pay-per-view, it was all about trying to make you believe that Logan Paul was indeed going to get that one lucky shot in on Roman Reigns and he going to win. Now some fans wondered if this was going to be a squash match for Roman Reigns, was this going to be a 30-second match where Roman was just going to hit the spear and the Superman punch and then it'll be over and Roman would win. Because it would make sense to have this veteran professional wrestler who wrestled in tons of matches, Roman Reigns easily defeat a guy who's only wrestled in two matches. Instead, it was a long drawn-out fight where by the end of it, you didn't know who was going to win. Now some of the things that happened in this match include a great performance by Logan Paul as he did some great Maneuvers, he looked very athletic and he did not put on an embarrassing performance. He did not look like some social media star who decided to become a wrestler and he just kind of stumbled his way through the match. No, he looked great and he is getting great reviews about his performance against Roman Reigns and even Roman looked very shocked that Logan Paul was going toe-to-toe with him, Roman probably did think: "Wow I'm just gonna run through this guy and get out of here with a victory". No, Logan was a tough opponent and Roman looked very nervous throughout the match because he kept trying to pin hom and Logan kept getting up. And toward the end of the match we had a lot of run-ins, we had Logan's brother Jake Paul run down to the ring and try to help his brother because there were tons of run-ins from bloodline members.
The Usos and Solo Sikoa all ran down to the ring to make sure that they did not interfere.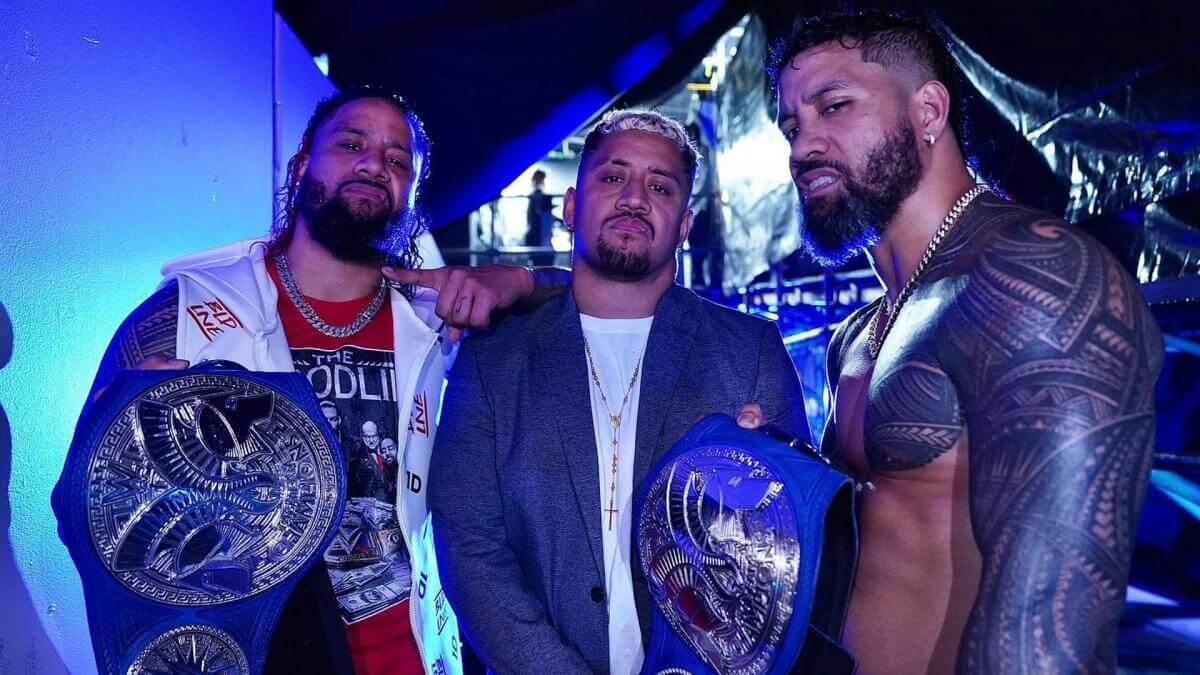 But in the end, Roman hit the superman punch on Logan. He hit him with the spear and Roman went for the pin and he got the one two three on Logan. And Roman Reigns came out victorious and he is still double champion. And shortly after the pay-per-view went off the air, we found out the real reason why Logan Paul lost to Roman Reigns.
Some fans who watching the pay-per-view were shocked that Logan Paul did not win. They were expecting Logan to walk out of Crown Jewel as the new double champion. So what happened? Why didn't Logan Paul knock out Roman Reigns and win the championship. What happened? Now Logan did get a couple lucky shots in on Roman Reigns with that fis. That has metal screws and metal plate inserted into it. But that wasn't enough because Roman kicked out and there were some tense moments where it looked like when Logan got the pin on Roman it was over. Roman was going to lose his championship but he was able to persevere and kick out and Logan himself after the match looked very shocked and disapointed that he did not defeat Roman Reigns. So what did exactly happened? Well after the pay-per-view went off the air, we found out the truth behind why Logan lost.
So it turns out that Triple H set up this huge plan for Logan Paul to go against Roman Reigns.
In order to advertise WWE to people who maybe haven't seen the product for a long time or who have never seen it, how do you advertise that? Well one way you advertise it is you bring in someone who has tons of followers on social media and you put them against your most popular wrestler in the main event at a pay-per-view. That's one way to advertise and that's the reason why we saw Logan Paul create a viral moment in the match.
We saw Logan Paul on the turnbuckle, jump off the turnbuckle onto Roman on the announcer's desk as he held a phone that was recording. And that video just like WWE planned has now gone viral and is getting millions and millions of views and it's a very popular video.
And guess what people are going to watch it and they're going to say "Hey! Oh WWE yeah! Let me check them out, let me check out their website, let me check out their social media, let me check out their shows". So what we're learning is Logan lost because he was just used for advertising. He was just used to get people to learn about WWE, to know about WWE, to watch their shows. You have to remember: This isn't one world title, this is two. You're putting both of your world titles onto a guy who wrestled two matches. It just was never going to happened although many believed it was going to happened because of the way WWE promoted this matchup and they tried to make people believe: "Wow, Logan Paul, he actually has a chance to win this match. He could become Champion. I'm going to watch this pay-per-view so I can see what happens". And you could say WWE has had celebrities athletes sports stars wrestling matches before. This is nothing new, well this is something new because this is for the world title, for two world titles against the biggest star, the main event of a pay-per-view. It's ever happened, something like this has never happened. Now Logan paul is signed to a contract at WWE. He is a wrestler, but he's a very very part-time wrestler. He barely been on WWE TV since he signed the contract. Yeah Logan Paul lost to Roman Reigns, did he ever have a chance? WWE TV made you believe he had a chance but it turns out he never had a chance because Triple H would never put two titles on him and have him be the face of the company. And also you don't want to destroy Roman Reigns who has become a massive massive star.
So Logan Paul comes out of Crown Jewel losing against Roman Reigns and the question is "Will this be the final time that we ever see this matchup Logan Paul vs Roman Reigns or could this just be the beginning of their feud?". What are your thoughts about the 2022 Crown Jewel pay-per-view and Logan Paul losing to Roman Reigns? Leave a comment below and give your oppinion.